3 Gardens to visit in Palermo old town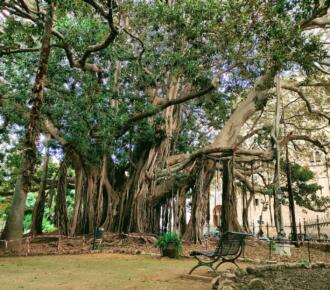 Palermo owns several green areas and gardens. Thanks to its position facing the sea and surrounded by mountains, the town has always been rich in vegetation.
The first permanent settlement Zyz ("Flower", as its founders called it) arose between two rivers and overlooking the sea.
Today, there are several villas and gardens in the extensive urban area, some of which enrich the ancient city area:
IL PARCO D'ORLÉANS
The gardens are in the area where the Kemonia stream once used to flow. Near Piazza Indipendenza, the Park d'Orléans, reopened to the public on 5 August 2021, is close to the homonymous Palace, seat of the Presidency of Sicilian Region.
Its fascinating botanical heritage includes palms, araucarias and several Ficus Macrophylla. It is home to many different species of birds, including pink flamingos and parrots. There are also fallow deer, fish and tortoises.
VILLA BONANNO
The garden is located in the historic centre of Palermo, in Piazza Vittoria, a few steps from the Cathedral. It was laid out in 1905 by the will of the mayor Pietro Bonanno, after whom it was named, and designed by the architect Giuseppe Damiani Almeyda.
The public garden is characterised by green spaces and tall palm trees. The square was once called "Piano del Palazzo" because the great Palazzo dei Normanni or Royal Palace overlooks it. The Palazzo dei Normanni has been the seat of the Sicilian Regional Assembly since 1947.
VILLA GARIBALDI
The Garibaldi garden, one of the stages of my Palermo historical districts tour, is a public garden in Piazza Marina. It was built on a project of the architect Giovan Battista Filippo Basile and named after Giuseppe Garibaldi to celebrate the recent unification of Italy.
Villa Garibaldi houses several species of tropical and subtropical plants and the Ficus Macrophylla with its aerial roots, planted in 1864 and one of the largest in Europe.
To enjoy the gardens, I recommend a visit to the parks especially in spring, summer or autumn. You can start the itinerary by exploring the Park d'Orléans, in Piazza Indipendenza; then you can continue walking through the majestic Porta Nuova and stop at Villa Bonanno. The walk, a downhill route towards the sea, continues along Via Vittorio Emanuele. Surrounded by important buildings, you will reach Piazza Marina, home to the splendid Villa Garibaldi.
Author: V. Danila Castro, licensed tour guide of Sicily.