Welcome!
I'm Danila Castro, a licensed tour guide of Sicily.
I carry out my profession with passion in Palermo and in Sicily, I am also a qualified tour leader, activity that has seen me engaged for several years abroad with equal enthusiasm.
Let me introduce myself. I was born in Palermo, the city where I grew up and studied. I obtained a Classical High School diploma at the Liceo Vittorio Emanuele II, considered one of the most prestigious institutes in Palermo.
In 1995, I moved to Venezuela, living for more than a year in Margarita, an island in the Caribbean. Working both in human resources and as a buyer for a catering company was a very important and formative experience. That's how I acquired competence in personnel management and purchasing.
In 2000 I worked for more than one year as "Tour Operator representative" in Hurghada, Egypt, and then in Majorca, Spain, for H.I.T. T.Operator – Going and Comitours. My Main activities and responsibilities were flight manager, transfer coordinator and Customer Care.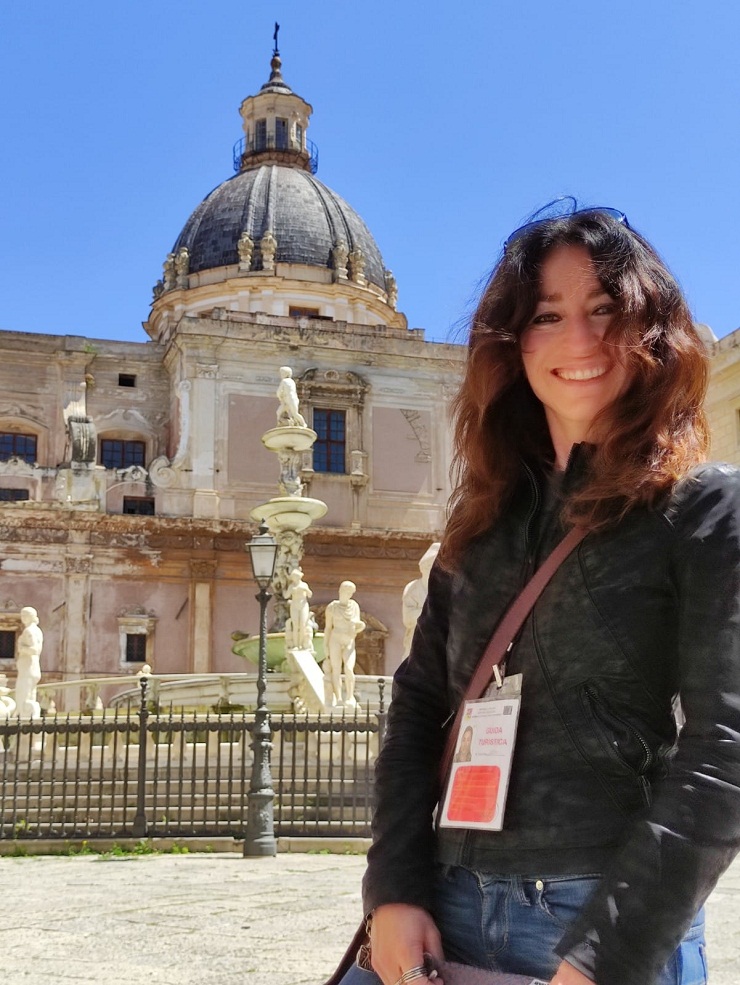 In 2005, I graduated in Foreign Languages for Computer Studies with a mark of 110/110 cum laude at the University of Palermo, Faculty of Humanities. During my university studies, I also worked as an information desk assistant, on-line and face-to-face tutor.
In 2013, I qualified as technical director of travel agency cat A/limited, in 2014 as licensed tourist guide of Sicily for the foreign languages of English and Spanish and in 2018 as authorized Tour leader.
Working as a "Tour Operator representative" allowed me to live some years abroad. From 2004 and 2006 I worked in Croatia for "Sivet i Vostri Viaggi" and more precisely in Dalmatia, in the Zadar Riviera and on the island of Pag. These places and experiences will always have a special part in my heart. I also had the opportunity to talk about my work as a tourist guide in this interview with a Croatian newspaper.
My work as a tour leader, which I have carried out for many years, has taken me around Europe, guiding tours in Holland and Belgium, Andalusia, the Norwegian Fjords and Scandinavian capitals, as well as trips to Spain, Serbia, Bulgaria, Greece, Hungary, Austria, Slovenia and the Czech Republic for various agencies including "Sivet i Vostri Viaggi" and "Top Viaggi".
I've always loved Palermo, my city, and Sicily, my homeland, because of the charming long history and the artistic and cultural heritage: they have definitely conquered me.
Being able to combine my passion and turn it into an exciting job is not easy but in recent years I have managed to realize this little dream.
Conveying the beauty of a city, which I consider unique, is one of the most exciting aspects of my guided tours. I love to see the wonder on people's faces whenever they discover the hidden riches this beautiful place has to offer.
I really enjoy walking and I think that my Palermo guided walking tours are the most appealing way to visit the fascinating and eclectic historic center of Palermo and the places that tell about the past, the many treasures, our long history.
This and much more we will discover together: if you are curious and want to visit Palermo or other unmissable places supported by a guide from Palermo, contact me. I will be happy to share all this with you and give you some advice, making available to you every useful element to create personalized visits.