V. Vitali's il "Branco"at the Royal Palace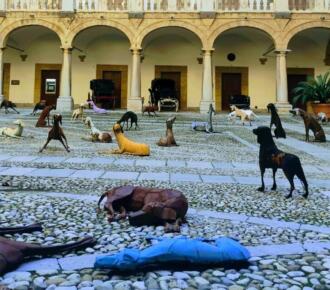 Velasco Vitali's 'Il Branco' moved to the Royal Palace on the 6th of January. A symbolic pathway has been created on the occasion of the 30th anniversary of Capaci and via D'Amelio massacres ("stragi").
An urban journey, part of the project promoted by the Fondazione Falcone and the Questura of Palermo in collaboration with the Presidency of the Regional Assembly and the Fondazione Federico II.
The sculptures, 54 dogs, move along an urban journey, installed in May 2021 in the bunker room, then moved to the Questura of Palermo. Since 7 January 2022 they have been displayed at the Palazzo dei Normanni. The "stray pack becomes an attentive guardian of the memory of a city that has suffered and managed to rise again'.
The Palace and the splendid Palatine Chapel, a World Heritage Site along with other buildings, have been part of the Arab-Norman itinerary since 2015. The heart of the itinerary, the Chapel, represents both architecturally and decoratively the extraordinary 'encounter' between different cultures.